150 Dazzling Star Tattoos Designs And Meanings
One of the most dazzling designs in tattoo art is the star tattoos, which showcase these glittering heavenly bodies as an impressive and eye catching mark on the tattoo bearer. The design is small and simple, yet looks very attractive. Being uncomplicated makes the design ideal for a first timer, as it involves less pain and is comparatively low on the price scale too.
They are one of the most popular and extremely beautiful body adornments that anyone can have on their body. A star is the number one of those heavenly bodies that are used in a number of things, not only for tattooing. Stars are the tiny things that you can see every night up in the sky that are shining so bright. However, do you know that stars are really not that tiny in actual appearance? Yes, they are very gigantic in size. The main reason why they look so tiny in our view is the fact that we are million miles away from them.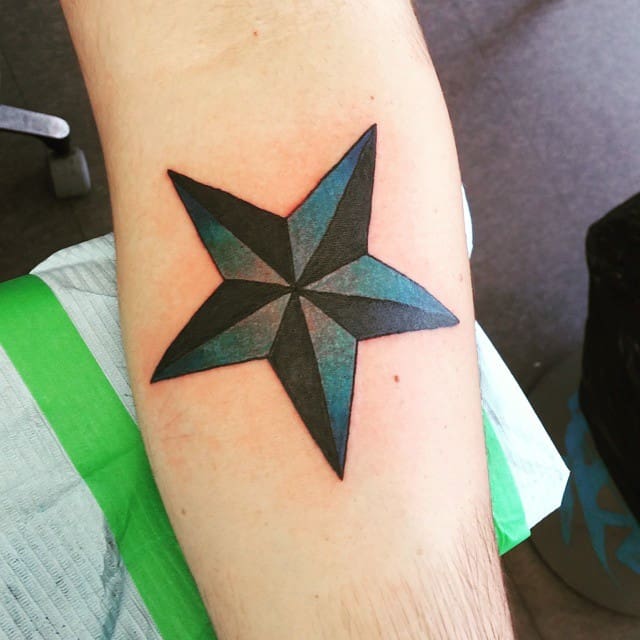 Star Tattoos Meanings
In case you are one of those people who are thinking of having this art engraved on your body, then you should know that these tattoos are not only giving great beauty to the wearers. Meaning to say, these will not only make you more beautiful in the eyes of many, but also make you look quite mysterious specially if the people around you do not know the real meanings and symbolism. In relation to this, here are the tattoos' meanings and symbolism that should be kept in mind at all times:
Religiousness – They are symbolizing religiousness is the fact that stars are being greatly associated to a number of cultures and religions in the entire world. Some cultures are even considering stars to be sacred symbols, causing them to worship the stars.
Guidance – Another thing they symbolize is guidance. People who are wearing it usually believe that they are being guided at all times. It is simply because stars are always there shining up the sky. They will never disappear even during the day. It is just that the sun is too bright during daytime, overpowering the brightness of the stars.
Direction – Since stars are always there specially during the night shining through, this is considered to be giving direction to the entire human race. You just have to follow the light that is shining from them. Through such light, you will never be lost because you are on the right track. If you wish to be on the right track at all times, then wearing these tattoos can be good to you.
Safety – It is extremely obvious why they known to be symbolizing safety or protection. It is because a star will give you guidance and direction.
Excellence – For sure, you are completely aware of the fact that they are known to be symbolizing excellence. In school for example, those students who got the perfect scores during examinations will receive stars that will be drawn to their hands or pinned on their shirts.
Good Luck – One other extremely popular thing being represented is good luck. Who, in this world, would not want to have good luck in everyday life? There is no one for sure, unless you are not in the good mindset. This is the main reason why a number of people who already experienced so many dangers in life are considering to have this art on their body.
Different Designs to Consider
Needless to say, there are a lot of options that you can have when you wish to opt for star tattoos. You should be lucky enough since these design options are extremely gorgeous that you might want to wear all of them on your body. Even so, not all of them are suitable for you, so make sure that you think about the design many times first before engraving it on your body. In relation to this, here are some of the gorgeous designs that you can take into account:
Tribal Star Art Design – Just like the other tattoos, the tribal star design is also one of the most favorite designs of the people when it comes to a star art. Hence, it is no longer surprising for you to see this design engraved on the body of numerous people wherever you go.
Shooting Star Design – Who would not know about the shooting star? There are a lot of people who make a wish when they see a falling star from the sky. If you are one of those people, then why not consider having a shooting this tattoo art on your body? There is no way you will not love seeing it right there on your own body.
Nautical Star Design – A nautical star is certainly the most beautiful design of a star that you can ever see. It has 5 points, and every point is being divided into half. The usual colors of this star are black and red. This design is representing masculinity, which is why it is the common choice of a lot of men in the world.
Pentagram Star Design – The Pentagram star design is the one that is being greatly associated to a number of cultures and religions in the entire world. This is why it is worn by a number of people who have strong devotion to their religion. Such design means protection among its wearers.
Moon and Star Design – This is a very common design that you can choose when it comes to star tattoos. Even so, you can never deny the great beauty of this tattoo design even though it is very common. There's no way it will not look great since moon and star are both heavenly bodies.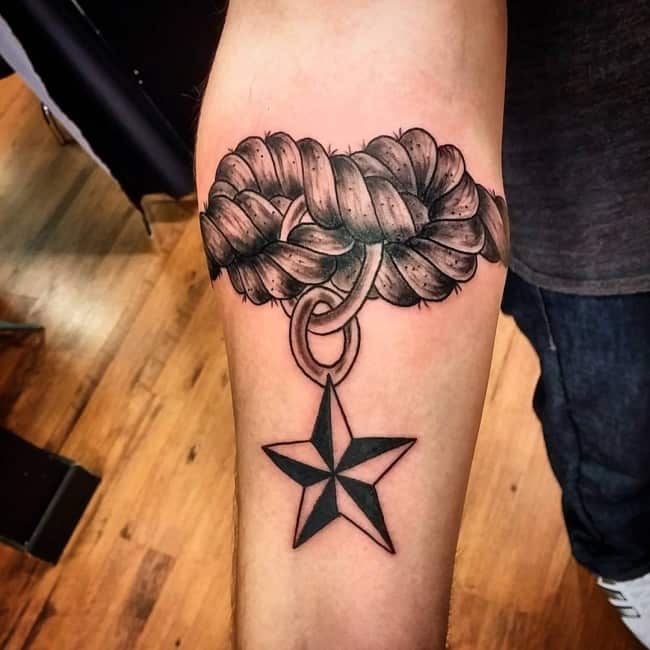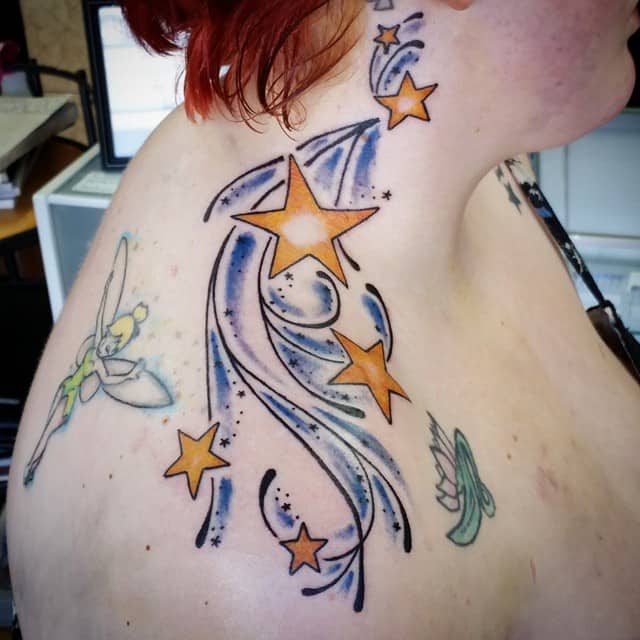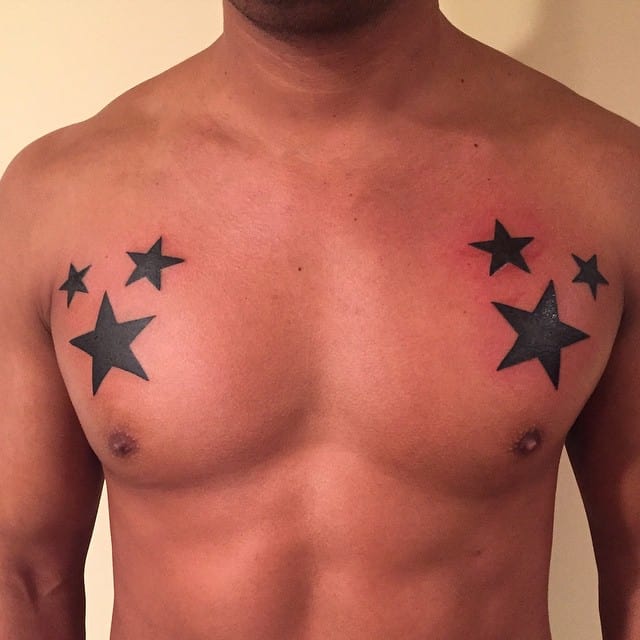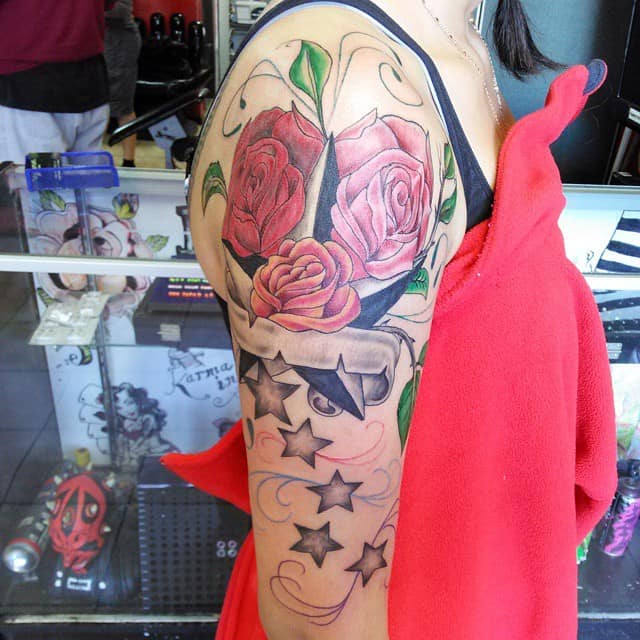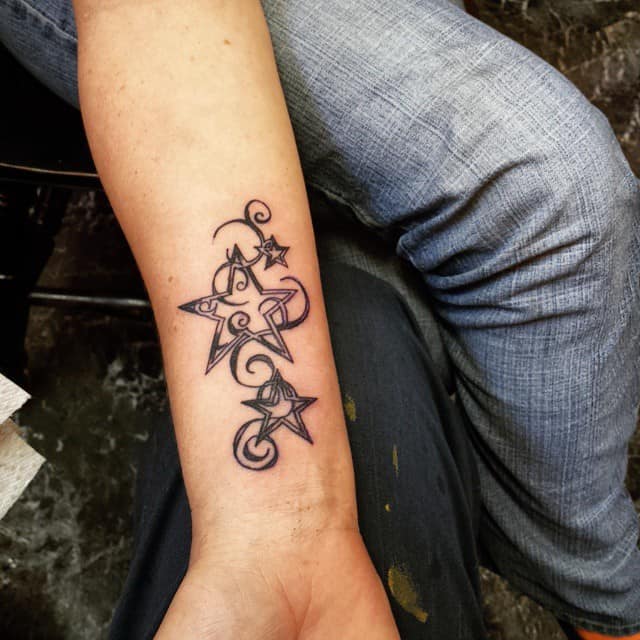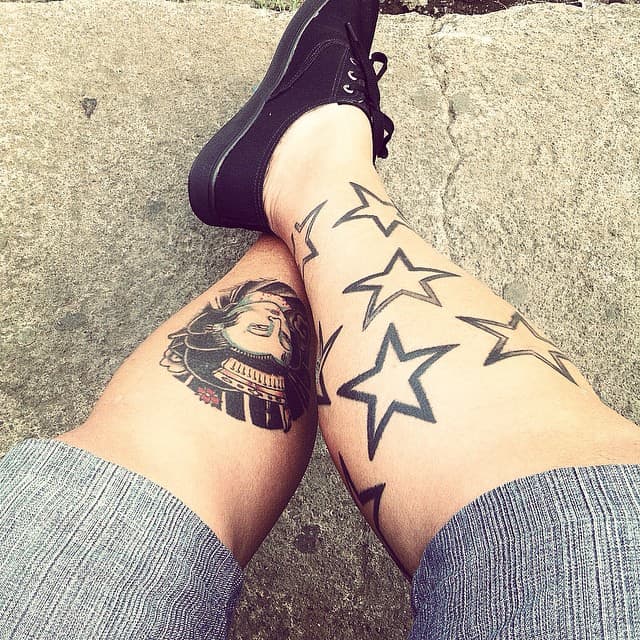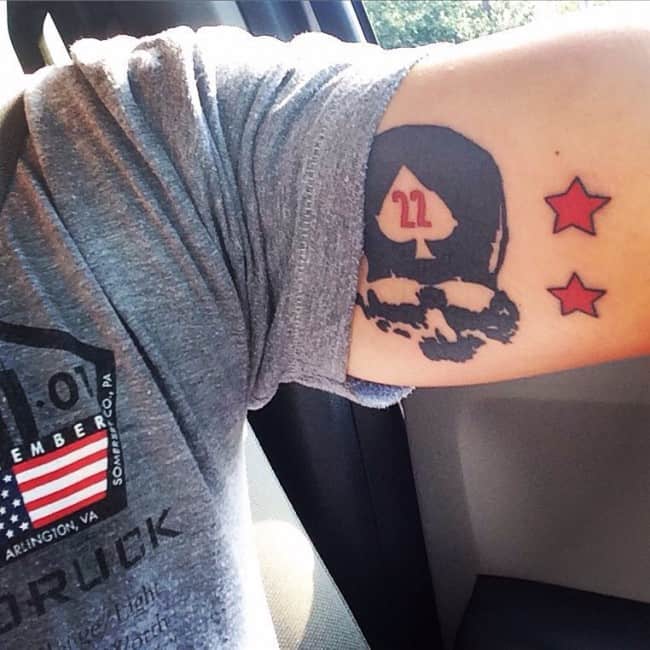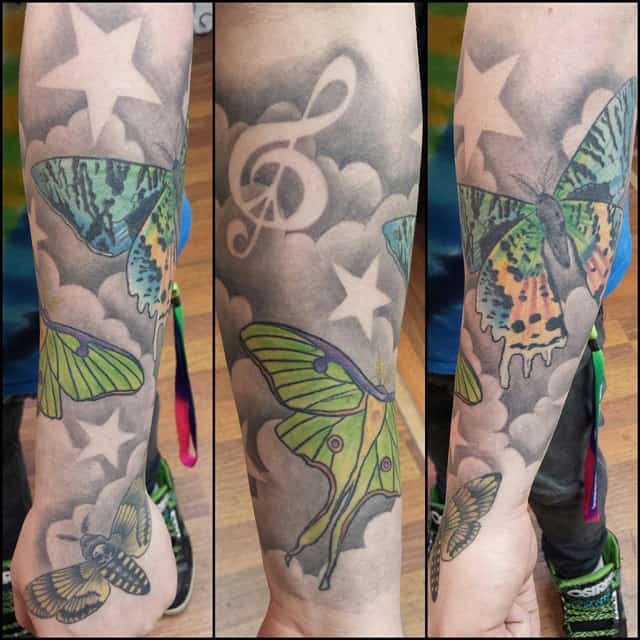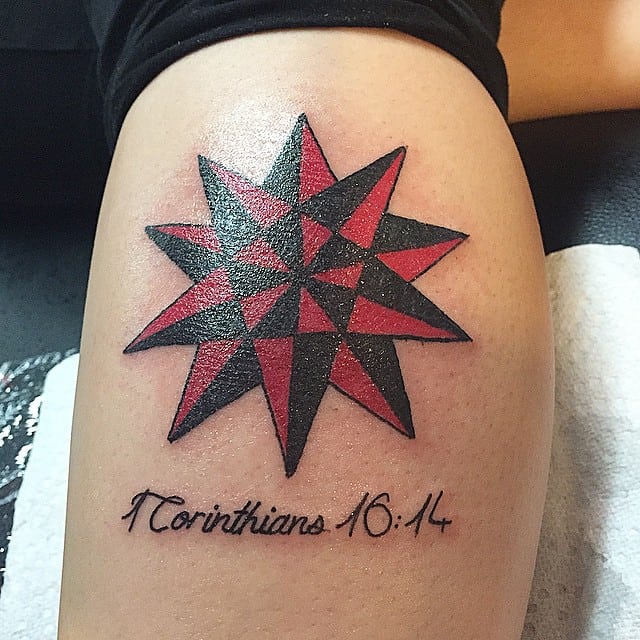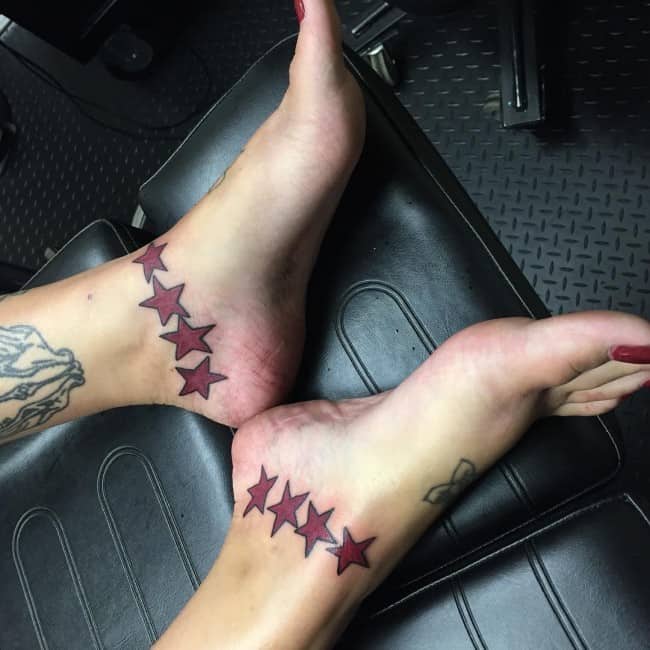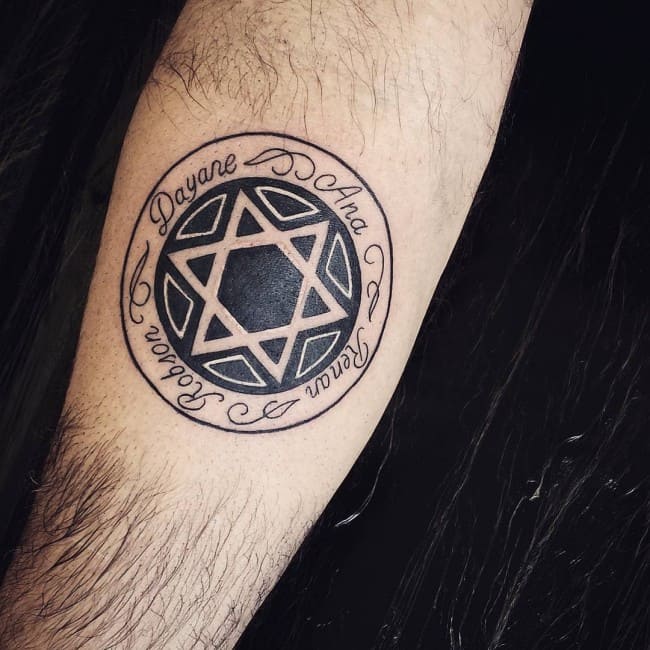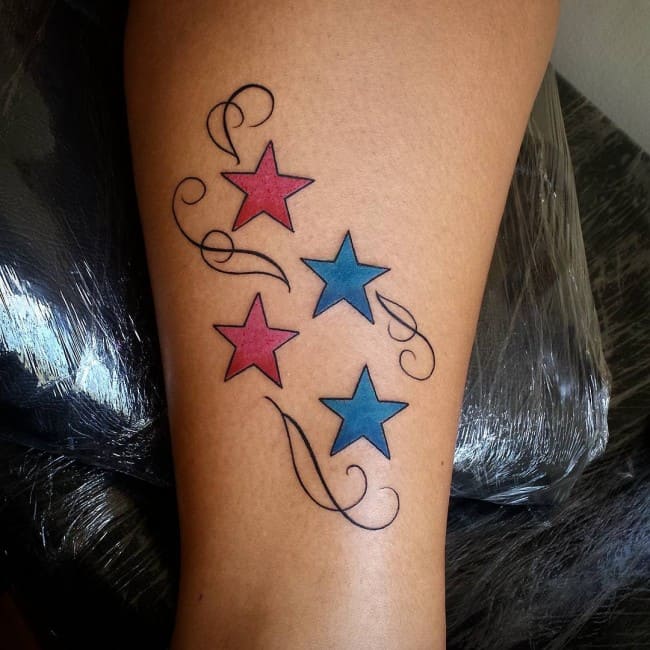 Moreover, star art has its own symbolic significance, making it a great attraction for discerning tattoo lovers. These tiny twinkling bodies not only beautify the night skies, but also act as guides to human beings and bring inspiration and internal strength for them. In fact, they have occupied a vital place in history, religion, culture and mythology, which makes them all the more significant and fascinating. As a result, star art tattoos are loved by both men and women as the new way to enhance their looks and make a presentation of their attitude.
For people wanting to have star inked, there are options galore when it comes to designs in star tattoos. Here are some impressive designs:
Nautical Star Art – They are designed in the form of a five pointed star, each point divided into a half and filled alternately in black and white or black and red. The design, which is quite masculine to look at, traces its history into the days when sailors used to use the North Star to navigate in the rough seas. The star helped them to find their way in the sea and reach home safely. Nautical star art was popular among sailors and are now seen on military soldiers, who take it as a good luck charm guaranteeing their safe home coming. It is also considered as a sign of good health in Ireland. The gay or lesbian community has a nautical star inked on their wrist to let others know about their preference.
Shooting Star Art – Shooting star, as we know, refers to a meteor and signifies a new meaning in life or change for something better. These tattoos are a way to show one's desire to achieve something in life and aspire to make a better future. It signifies success and good luck, along with fulfillment of wishes. These designs feature a single shooting star or a group of them. In case of shooting star design, a trail of stardust is usually shown following the star, which makes it occupy somewhat larger surface area. These tattoos look feminine and are usually borne by girls, with lower back, wrist, arm and leg being the most preferred area for them.
Star of life Tattoos – The star of life tattoo is another variant, which is mostly worn by people in the medical field, particularly those dealing with medical emergency. This blue colored star has six points, with the Rod of Asclepius in the center and the rod is entwined by a snake. The Rd is a symbol of healing and medicine.
Tribal Star Art – Tribal design is an eternal favorite, as it is with all other kinds of tattoo designs. The geometric shape makes it perfect to be adapted in the form of traditional tribal design. Tribal star art is considered as the most popular design today and it has its stronghold since the nineties, with young girls having this one inked over their lower back area.
Moon and Star Art – The combination of stars with other celestial bodies like the moon and the sun make a great design option among star art tattoos. This design looks great as the moon and the sun complement the stars. They are also simple yet good looking.
Star with Flowers – A common and attractive star art design, which is usually seen on women, with flowers (such as rose, lotus, lily). Having your favorite flower incorporated with star art is another attractive option.
Zodiac Sign Tattoo/Star Sign Tattoo – In addition to star shaped tattoos, a special mention is need about the star sign or zodiac sign tattoo. The tattoo bearer gets inked with his own astrological sign, which is determined by his date of birth and reflects the traits related with his personality.
Multiple Star Art – Most of the designs feature a solitary star, but the latest designs include multiple stars being depicted in the design, a trend which has gripped the art in recent times is women getting a three star art tattoo in the pelvic region, one in the center and the other two on the left and the right hip, which look really cool.
Pentagram Star Art – Pentagram is another form of star art, which is of great religious significance, as it has been an ancient symbol in various religions and cultures around the world. It has been regarded as a charm for protecting a person against evil. As the Pentagram has 5 points, each one represents the elements of light, air, water, wind and fire, all of which are the basis of existence on the earth. The ancient Egyptian culture regards the Pentagram as the symbol of celestial sky, while Astronomy signifies it as a symbol of femininity.
In Christian religion too, it is of great significance as it denotes good health and the five senses. On the other hand, Satanism makes use of the reversed pentagram framed within a double circle. Star tattoos can be made in traditional black color or a range of vibrant colors, which can create a stunning effect. In particular, flowers and stars tattoos and shooting stars tattoos look really good on girls, the credit going to use of multiple colors.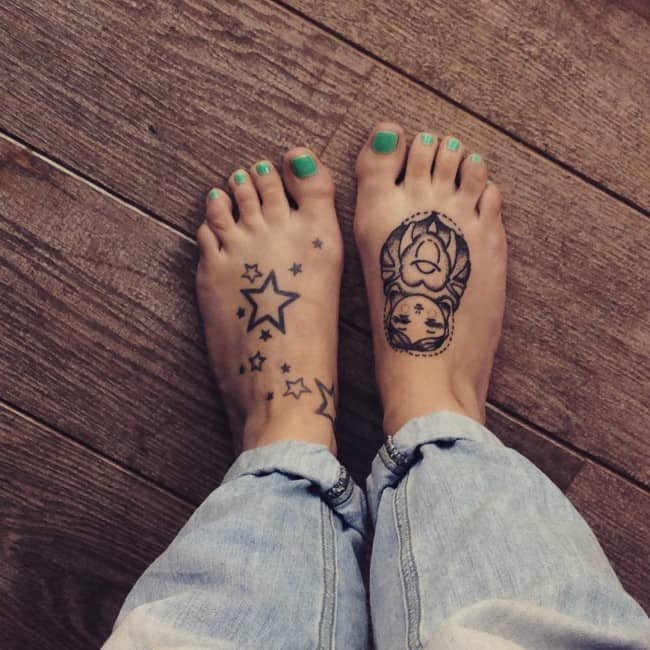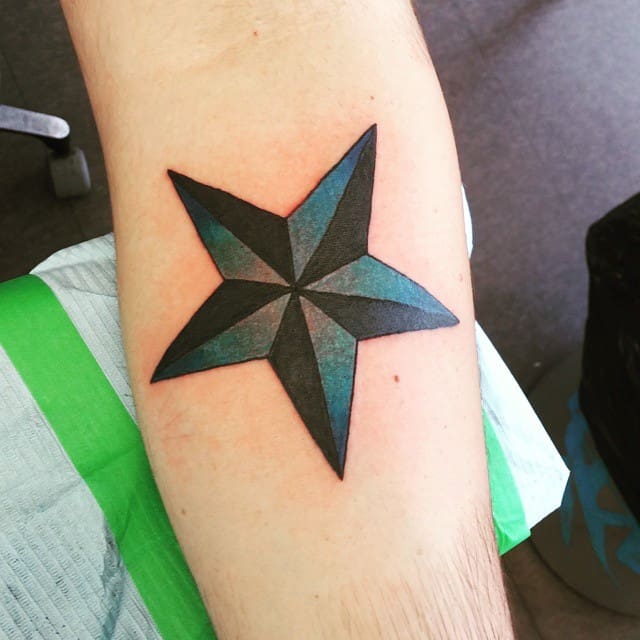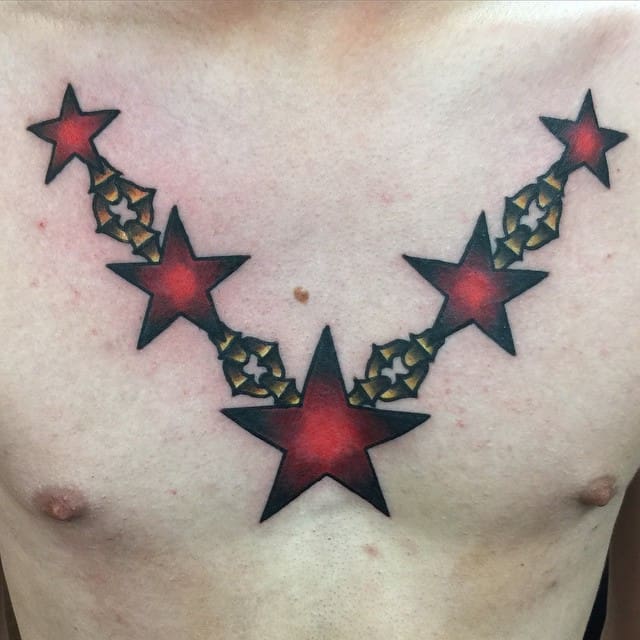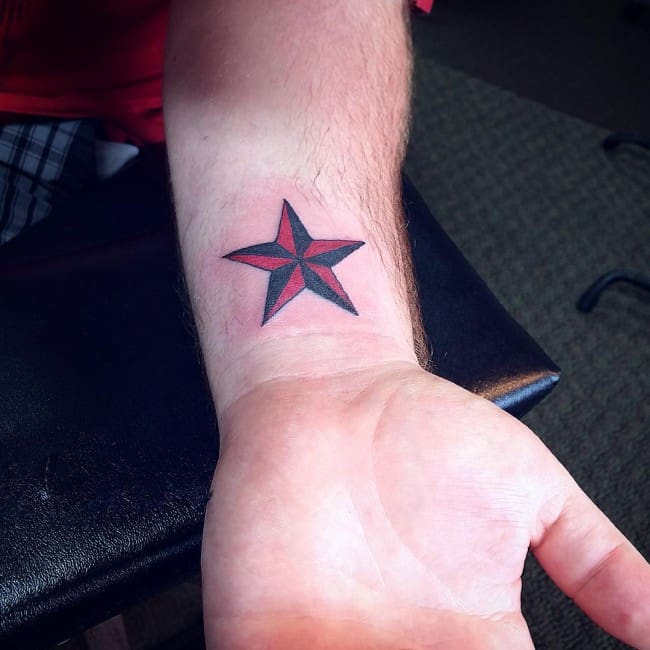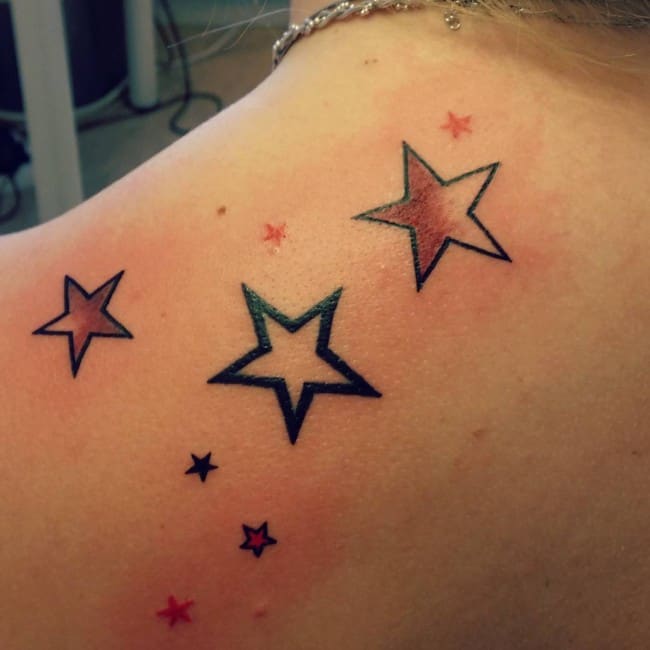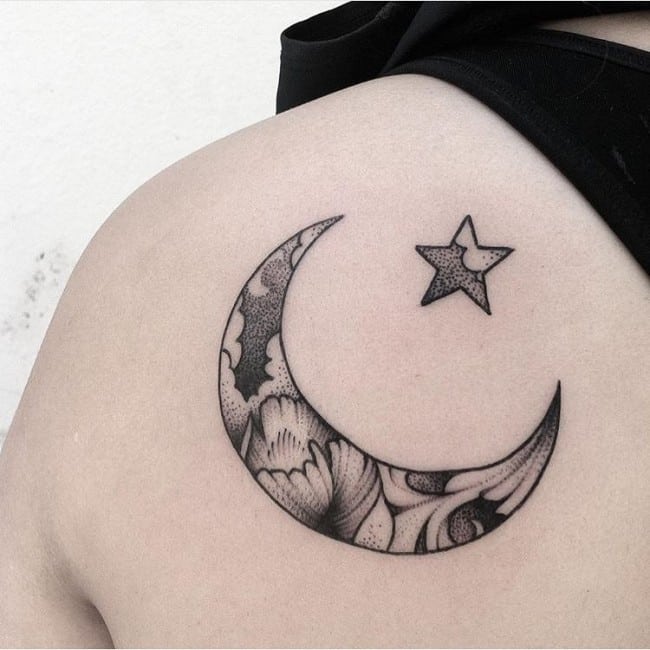 They make a great choice for both men and women looking to be adorned with the latest in tattoo art. The placement, however, differs in both the sexes and also determines how good the design looks. Men have done on their chest, back, shoulder, upper arm and wrists. On the other hand, these tattoos are featured in a more delicate way on women, preferably on their neck, abdomen, under the ear, shoulder, navel, hip, thigh and even the face. Basically, it is the size of the tattoo which determines the most favorable placement for it. For instance, larger tattoos can be featured on broader areas like the chest and the back, while smaller ones can be done on finger, wrists and back of the ear. They can also be used with different objects such as dreamcatcher, feathers, anchor, angels, wings etc.
The popularity of these tattoos is not only attributed to their aesthetic value, but also to the fact that there is an impressive list of international celebrities endorsing this particular tattoo design. The number of such celebrities is pretty large, but to mention just a few of them, we would include some very big and famous names like Megan Fox, Britney Spears, George Clooney, Bruce Willis, Drew Barrymore, Rihanna, Boy George, Victoria Beckham, Aaliyah, Gerry Halliwel, Kate Hudson, Norah Jones, Kelly Osbourne, Anna Kournikova, Eva Longoria, Pink and Tokio Hotel. From this list, one can well imagine how popular thesetattoos are.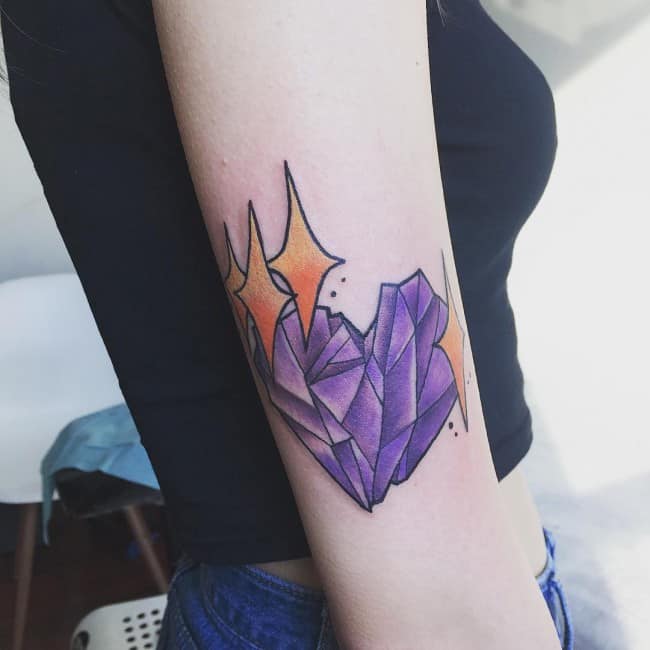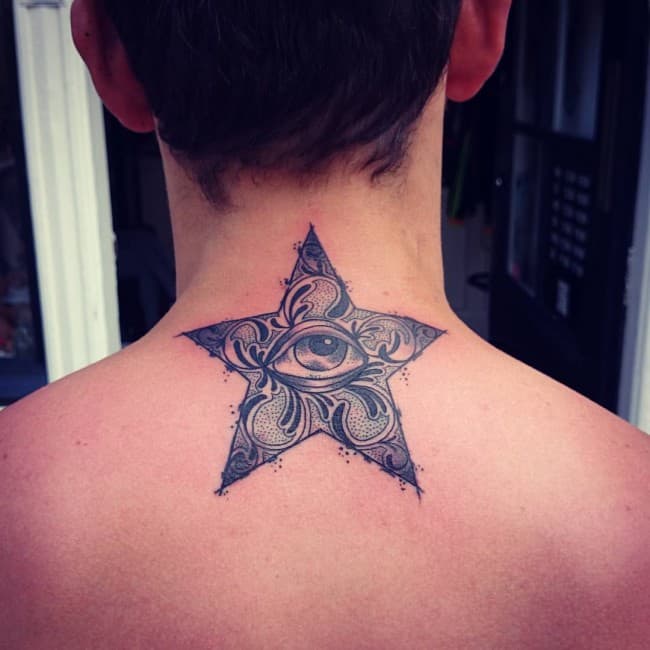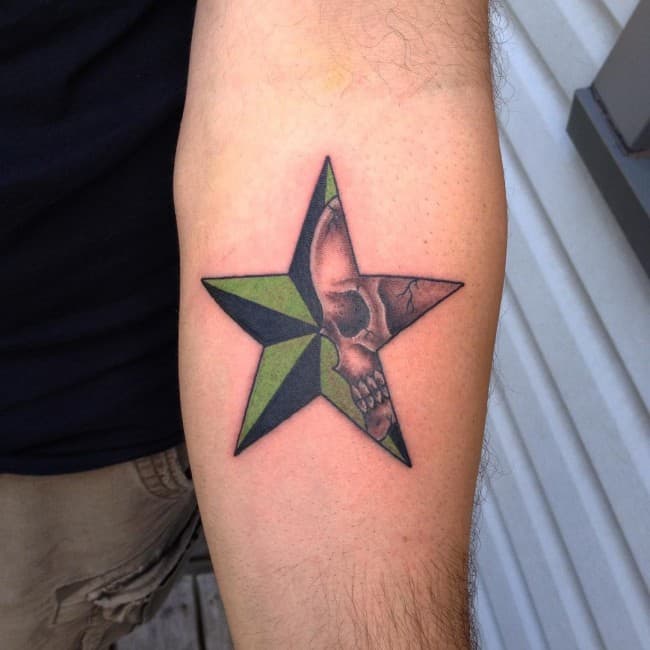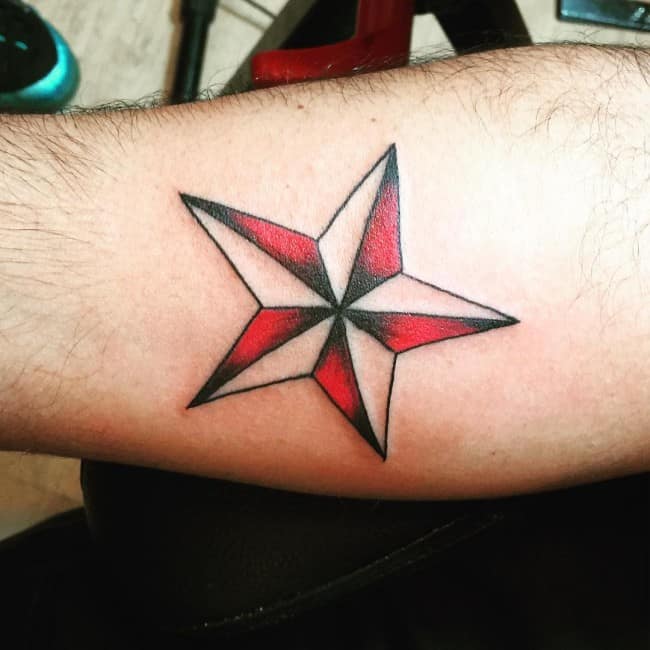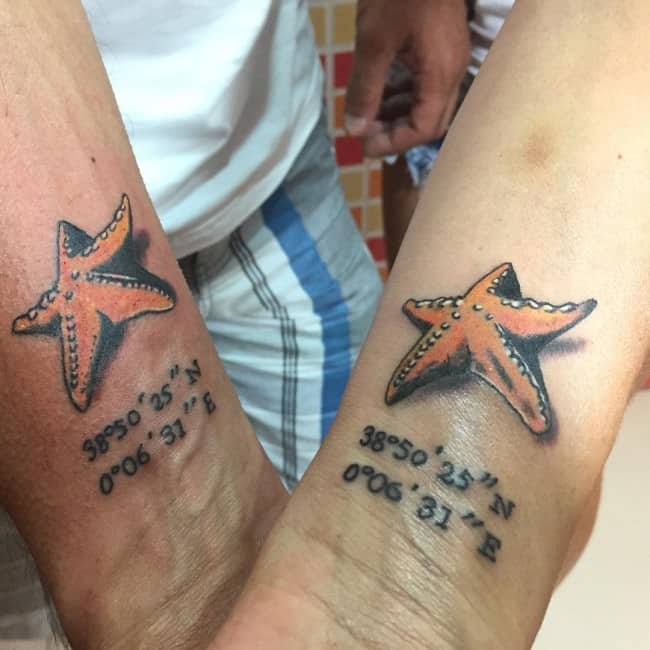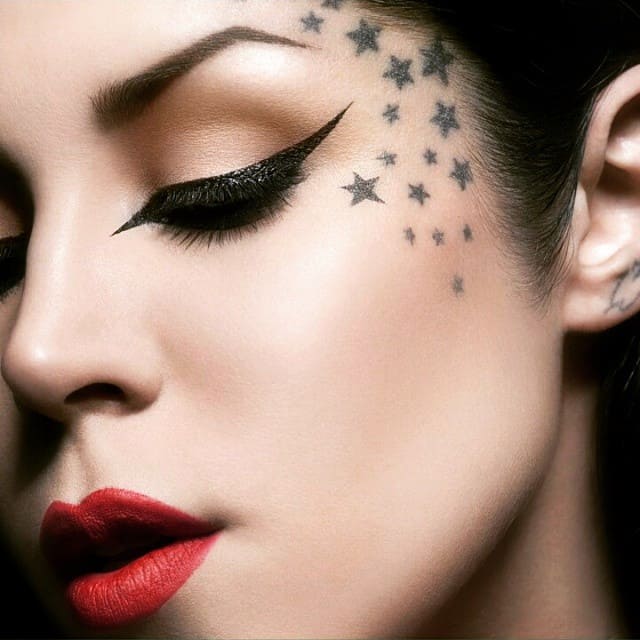 Placement Guide
Yes, it is all up to you where to place your tattoos on your body. Even so, this is not the case at all times. Sometimes, it is best to think about the tattoo placement well before starting the tattooing process. Just like the star art tattoo, it is very important that you know the best placements for such tattoo. In this regard, here are some of the common placements:
Celebrities Views
There are a number of famous individuals in the world who are currently wearing star art on their body. They are very proud to display these tattoos to the public. Here are some of the names of these famous people that you might be very interested to know:
Nicole Richie – Nicole Camille Richie is a 34-year-old American television personality, actress, author, and fashion designer who looks very gorgeous with her star art tattoo. It is located right there on her left foot.
Meg Ryan – Meg Ryan is a 54-year-old American movie producer and actress who is also a big fan of star art. She has a very beautiful one that makes her more gorgeous even at her current age.
Bruce Willis – Bruce Willis is a 61-year-old American actor who is also wearing a gorgeous star design these days. The design is a 3-star art that is located on her shoulder. Such tattoo is making him register a very womanizing look despite his current age.
Eva Longoria – Eva Longoria is a 41-year-old celebrity in the Hollywood. She became very famous for her notable roles in movies and television shows. Eva looks very gorgeous with her star symbol tattoo.
Final Words
Star tattoos are definitely not only for display purposes since they are also very meaningful just like the other tattoos. If you want to look very gorgeous just like those very beautiful and handsome celebrities out there, then wearing star art tattoos must be taken into account.