100 Charming Dove Tattoos And Meanings
Tattoo art is all about adorning your body with beautiful designs, which also convey a significant meaning. Some of the popular choices for tattoo art are natural objects such as flowers, butterflies, dragonflies, hummingbirds, celestial bodies and fish, while other elements such as tribal art and religious symbols are also famed as tattoo designs. Among the birds, dove tattoos hold a special place due to their immense beauty and deep symbolism, which makes them a favorite among men and women around the world. Though we have also seen sparrows and bluebirds among body art, but there is no denying that doves have always been special and will continue to be so, whenever we talk about tattoos. There is something very graceful and charming about these feathered creatures, which make them an unrivaled tattoo design loved by tattoo artists as well as tattoo enthusiasts around the globe.
Tattooing is definitely an art that is practiced and observed by great numbers of people in the entire world these days, and dove art tattoos are preferred by many. These tattoos are extremely popular among men and women tattoo lovers out there since aside from being beautiful tattoos that can make their physical appearance more gorgeous than ever, these tattoos are also full of meanings that can match the different personalities of those tattoo lovers. These are actually the most common bird tattoos that you can ever find in many people's body. There might be some other designs for tattoos out there such as rose, fish, dragonfly, tiger, lion, hummingbird, and sunflower, but dove is definitely definitely one of the most beautiful and meaningful ones.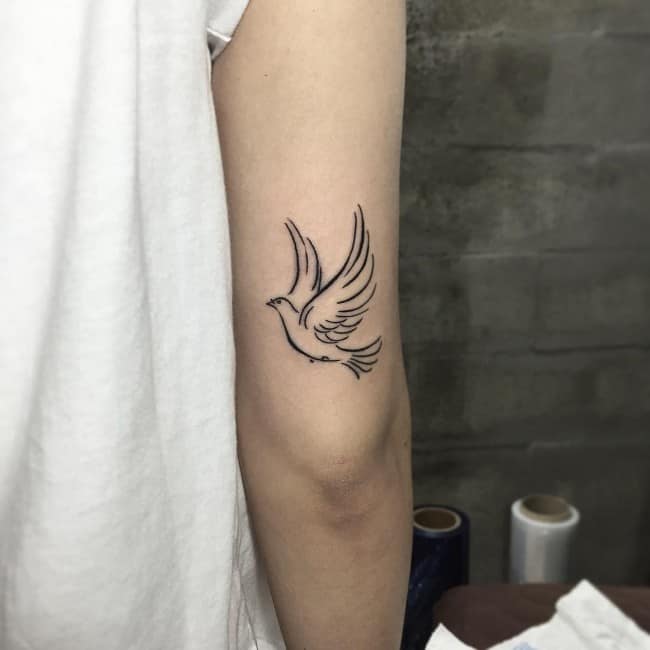 Dove Tattoos Meanings
Needless to say, dove tattoos are not only widely used as beautiful body arts. They are also worn by so many people in the world in order to tell other people for something that is important. It can be about the wearer's personality or the general meaning of the tattoos that the entire world should know. In connection to this, here are some of the meanings and symbolisms of a dove designed tattoo:
Success – The number one thing it symbolizes aside from the very common "love" is success. Yes, doves are not only used in showing love and peace symbolism but also success. In case you are already successful in life or you aim to be very successful in the future, having this tattoo will definitely good on you.
New Beginning – Another thing it symbolizes is a new beginning. In case you experienced something bad in your life in the past and you are now in the new life beginning, then you can tell all the stories about it through a dove art. The reason is because such bird is symbolizing a fresh start in the bible, specifically in the story of Noah.
Family – It is really very interesting to have these days. It is simply because it symbolizes family. The explanation for this is that dove will never die alone in its life. It will surely have a dove partner, and this depicts the real life situation. Every person should make a family and love their husband or wife and also their children. If you are a very family oriented man or woman, then you have a dove design tattoo engraved on your body.
Cultural Significance
Doves have been revered for their beauty as well as symbolic significance in various religions and cultures around the world. Each of them relates this alluring little bird with some specific meaning. Here are some symbolic meanings which are associated with these beautiful creatures:
1. Doves are regarded as the symbols of faith in Christianity, as they have been used as a mark of the Holy Spirit in this religion. In fact, dove has found mention in the Bible as well as the ancient Christian art, such as the instance where it has been pictured carrying the twig to Noah, marking the end of the great flood. It has also been imaged to be there while Jesus was being baptized by John the Baptist. At some instances, it has been pictutred with Mary, the mother of Jesus Christ. Therefore, on the basis of the symbolic meaning in Christian religion, dove art tattoos are popular among the followers of the religion.
2. Dove has been revered as a symbol of peace and hope since ancient times. It has also been associated with goodwill, which makes it a positive choice for tattoo bearers of all ages and both the sexes. To add to it, this particular tattoo design bears unmatched beauty too.
3. It has also been regarded as a symbol of divine inspiration, bringing hope and faith in the life of the bearer when borne in the form of a art. The tattoo stands as a witness of the spiritual devotion of the bearer and also his unrelenting faith in his religion. The bird is also related to purity and sacrifice.
4. In Christian as well as Celtic mythology, the bird is revered as a symbol of well being, love, protection and pure and virginal qualities.
5. Another interpretation related with this pious bird links them with motherhood, due to its link with the mythological characters of Mother Mary and Venus. According to the legend, doves have fed Zeus, which gives them the image of motherhood. This is the reason why it is befitting to bear this art as a dedication to your mother.
6. In Celtic culture, doves have been seen as messengers who bring omens of good or evil. In Japanese legend, these birds were believed to carry the message from the God of War, declaring the end of the battle by bringing along a sword. A popular tattoo design displays the dove bearing an olive branch in its mouth.
7. Some people consider it to be a symbol of afterlife, in the form of a human soul which gets liberated at the end of its life to meet its destiny after death.
8. They also make an ideal tattoo design for newly-weds as they mark the beginning of a new life with undying faith, love and devotion towards each other. The special event in the lives of the couple can be commemorated by having this tattoo inked on both the bride and the groom, and the date of the wedding may also be added to it to make the event even more memorable.
In this way, dove art tattoos have a large number of symbolic meanings related with it, which has made them a much loved design among tattoo lovers around the world.
Placement Options
Like all other tattoos, the placement of dove tattoos too depends upon their size and design, and of course, the preference of the tattoo bearer. since the aim of tattoo art is to attract attention, it needs to be inked at such a spot where the tattoo is visible, and at the same time, it should be easy to conceal whenever the need arises for the same.
Larger tattoos can be featured on areas such as stomach, rib, sleeve, thigh, back, spine, chest, while smaller ones can be done on the legs, wrist and ankle, side of the ear, back of the neck and even on fingers. The beauty and aesthetic value of the tattoo purely depends upon the creativity and skill of the tattoo artist.
Dove  make a great choice for the first timers as it gives a perfect balance between aesthetic beauty and symbolic significance. Therefore, you must consider this design and discuss it with the artist before finalizing the best one for you.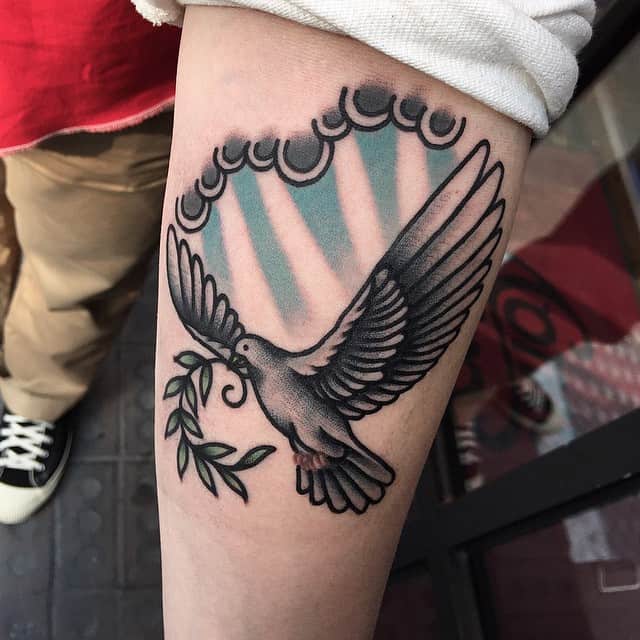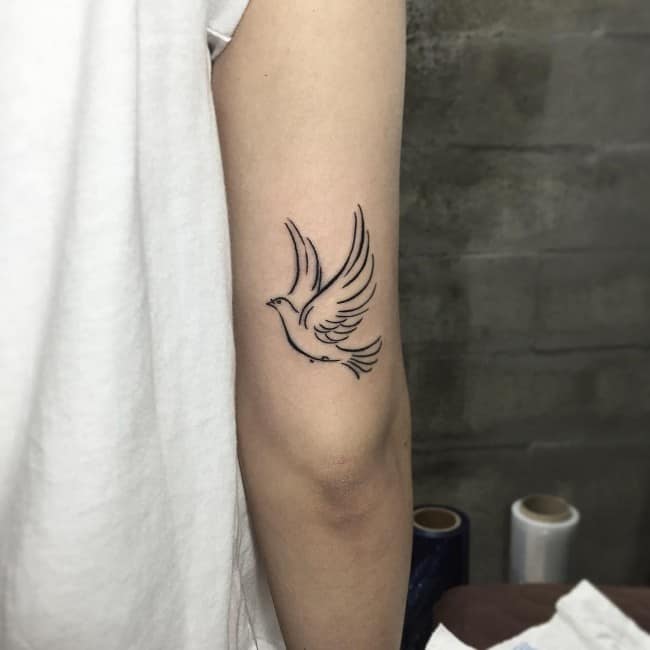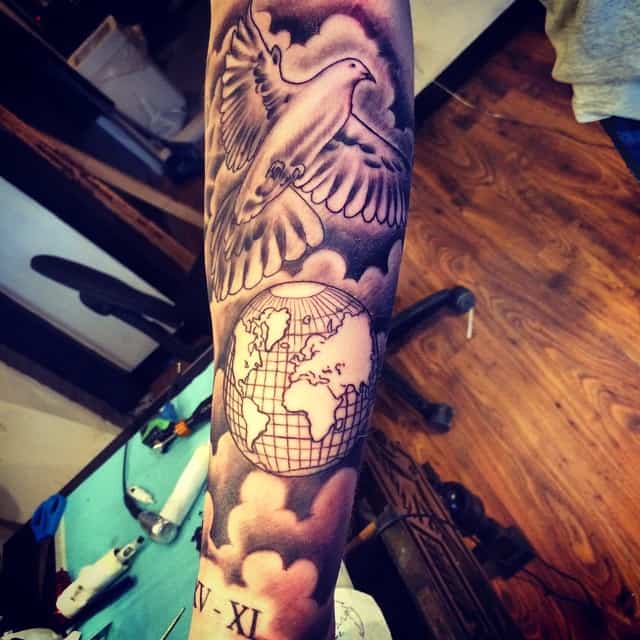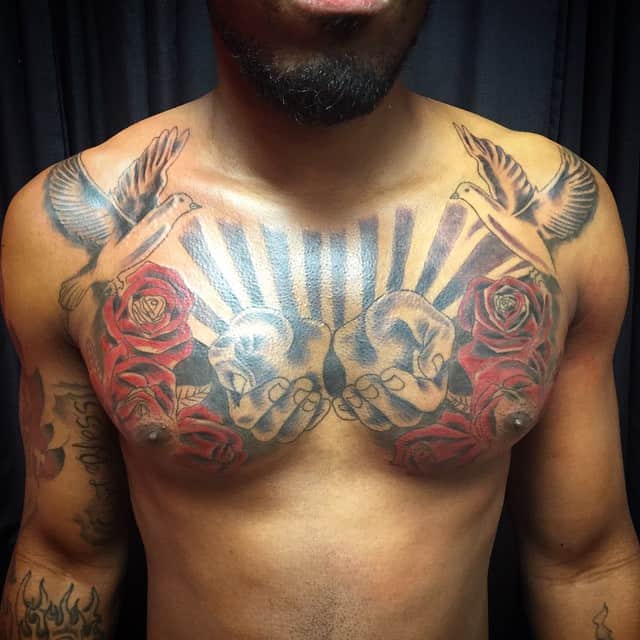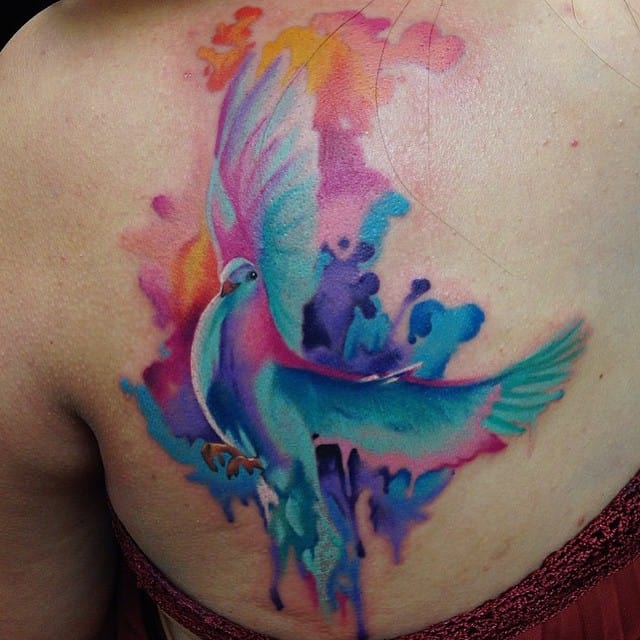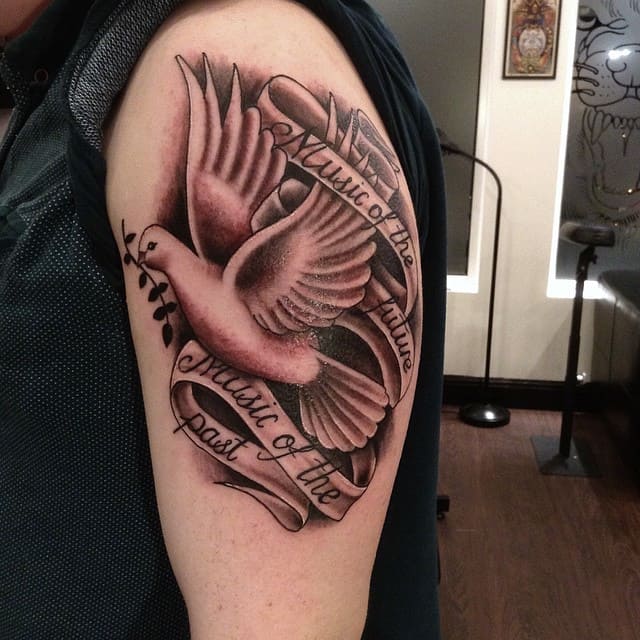 Doves, with all their aesthetic beauty as well as symbolic meanings, make a great choice for tattoo lovers as well as tattoo artists, who can use their creativity to bring out some absolutely unique tattoo designs. This is the reason why you are likely to find a great variety in this versatile design option. Here are some popular designs:
A single tattoo stands for purity and virginal beauty, which stands as a symbol of the commitment of the bearer to value his or her virginity before marriage and fidelity towards his or her partner later on.
Similarly, a pair of beautiful doves holding a branch makes a wonderful tattoo design for a couple, which signifies their love and passion for each other. The tattoo can be inked as a couples tattoo on both the partners in love or marriage.
A dove along with a date of passing away of a loved one can be inked as a memory of that person and be borne as a symbol of afterlife.
Similarly, a dove along with a country's flag is another popular option among designs as it marks world peace, which is the symbolism represented by a dove.
While they are done in traditional black or grey ink remain the eternal favorites, a unique effect can be created by having the dove done in white ink, as it relates the tattoo with great purity. But white tattoos need to be chosen and inked with great care as they do not look good on all skin tones. On the other hand, if you have the white dove art tattoos done by an expert, it can look absolutely stunning.
Some other amazing dove art designs can be created with doves as the centerpiece by adding different elements to it, such as flowers, twigs, stars, waves and some special text such as names of the loved ones and some special quotes which define the attitude of the bearer.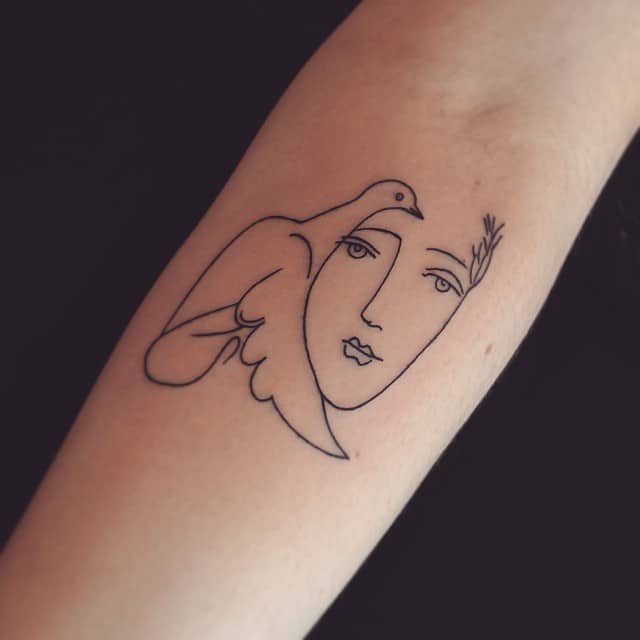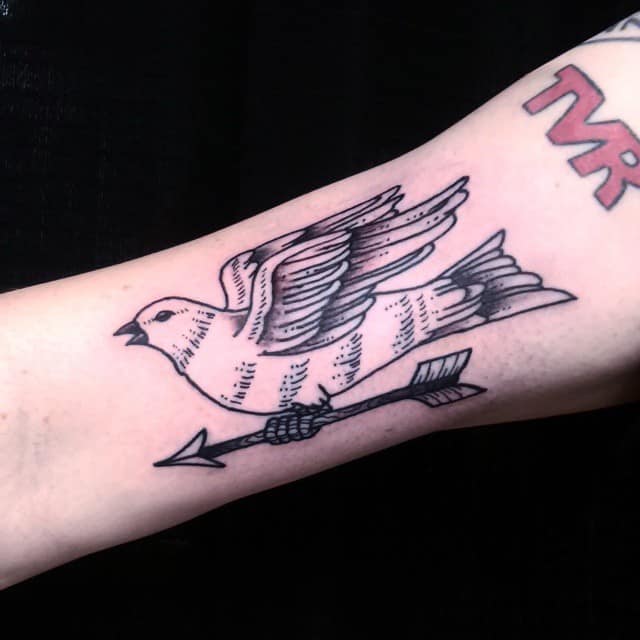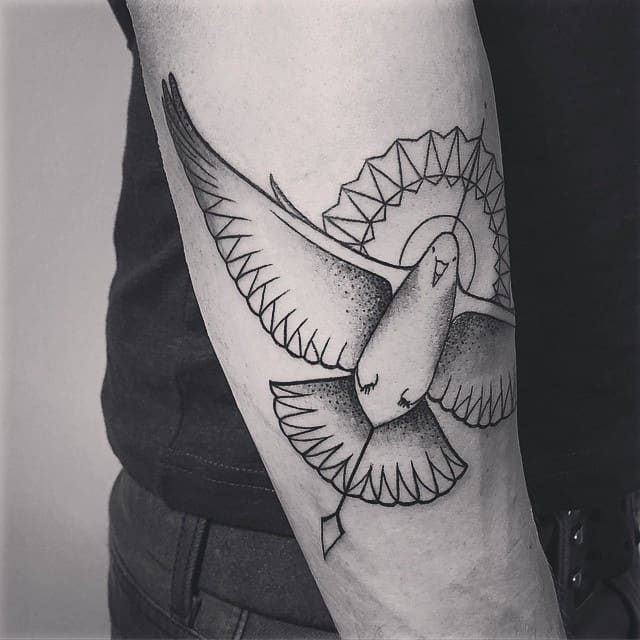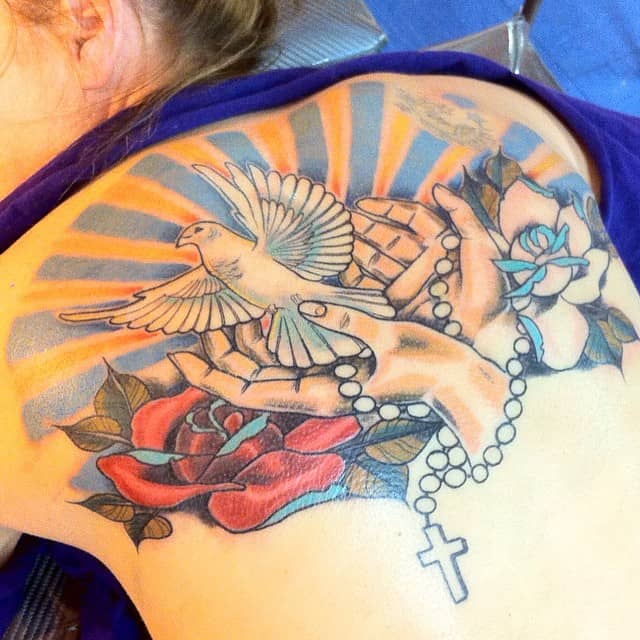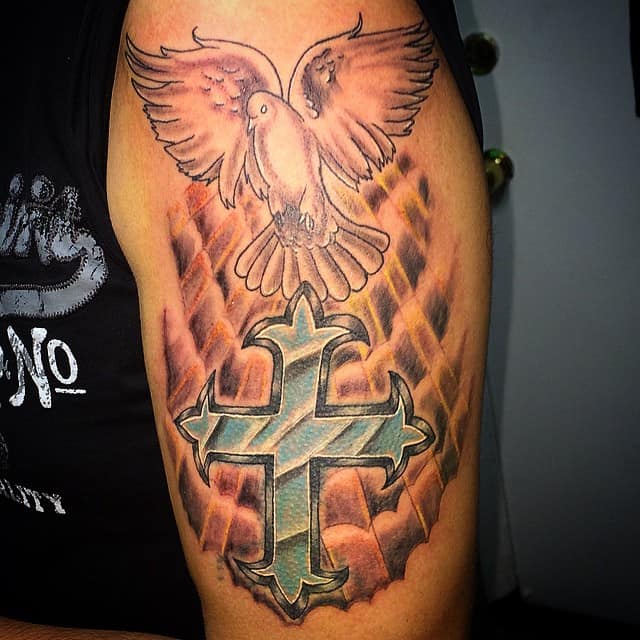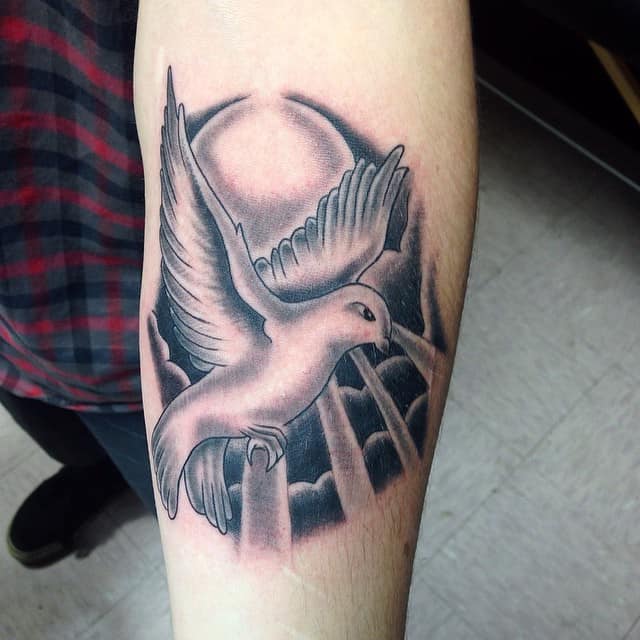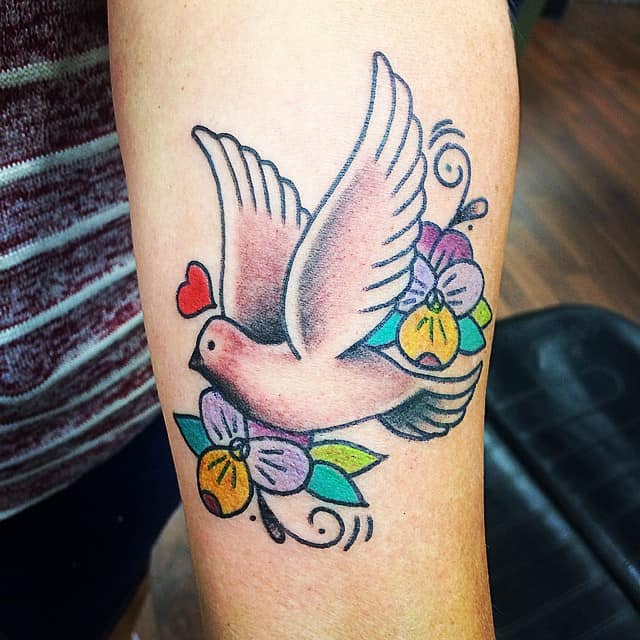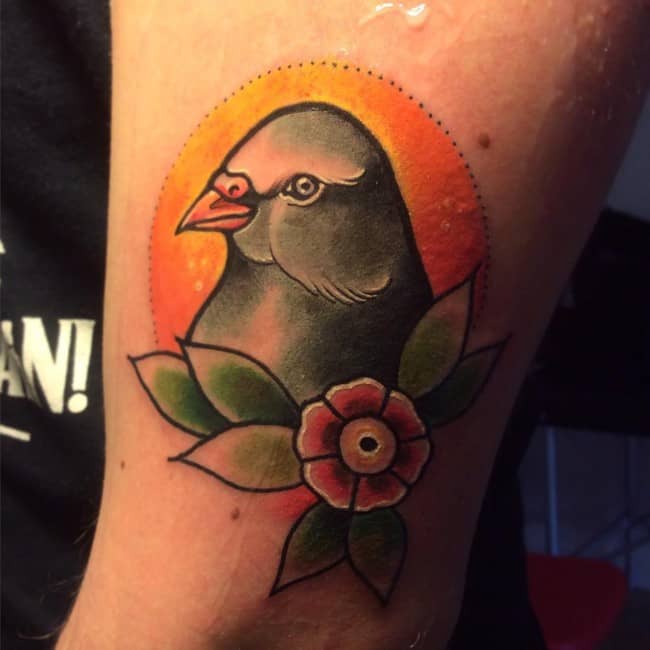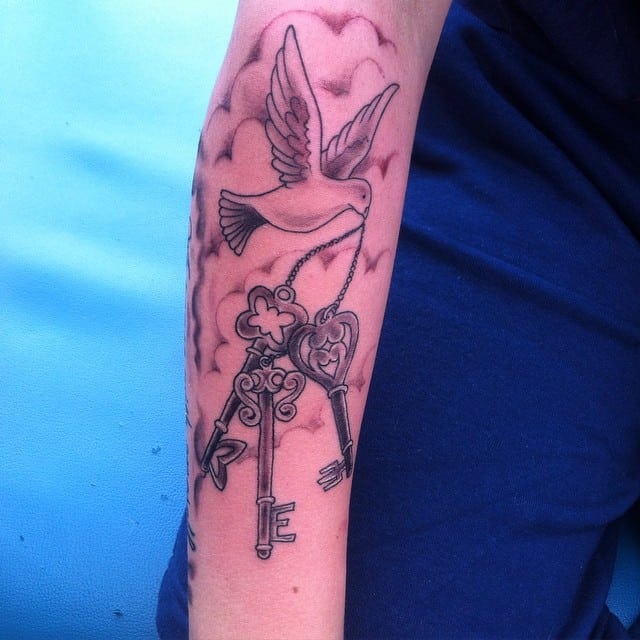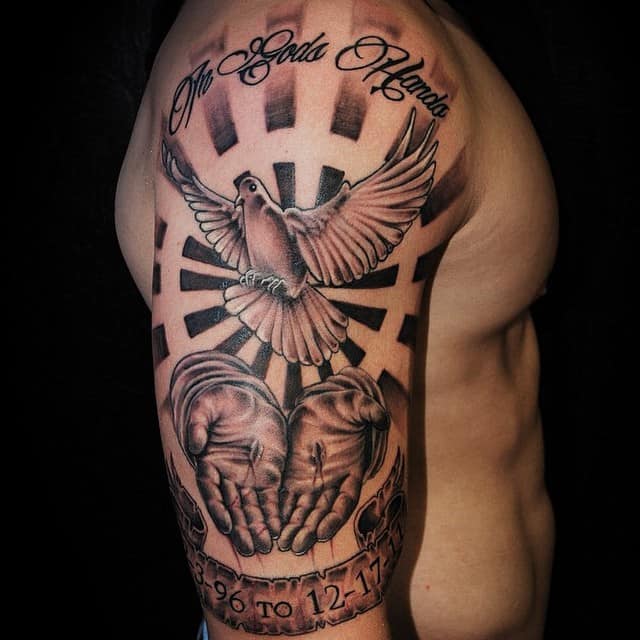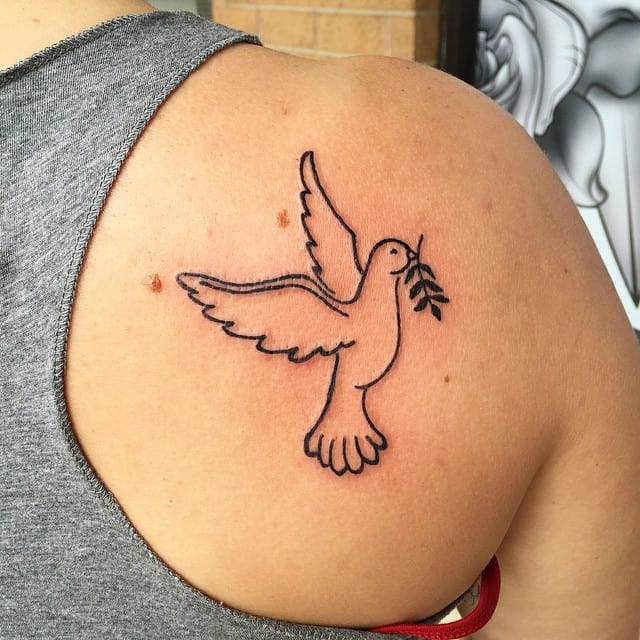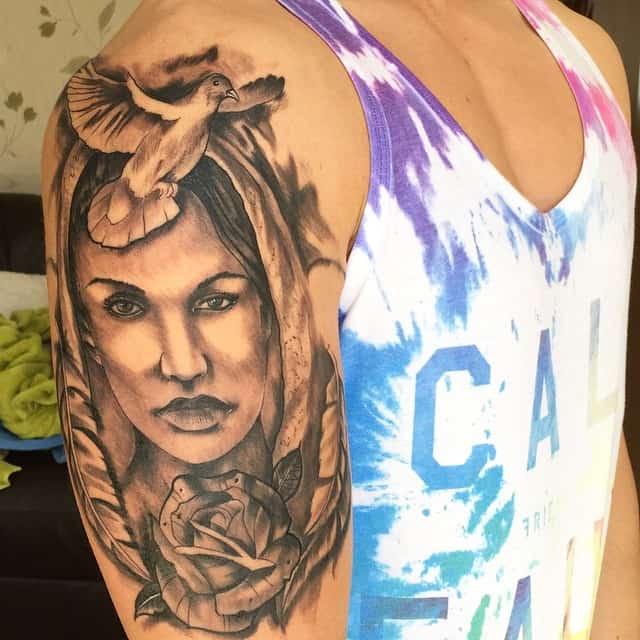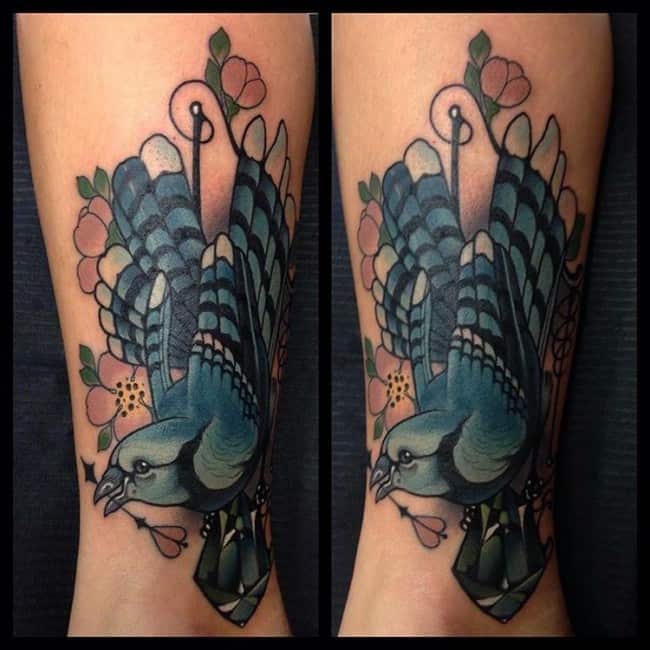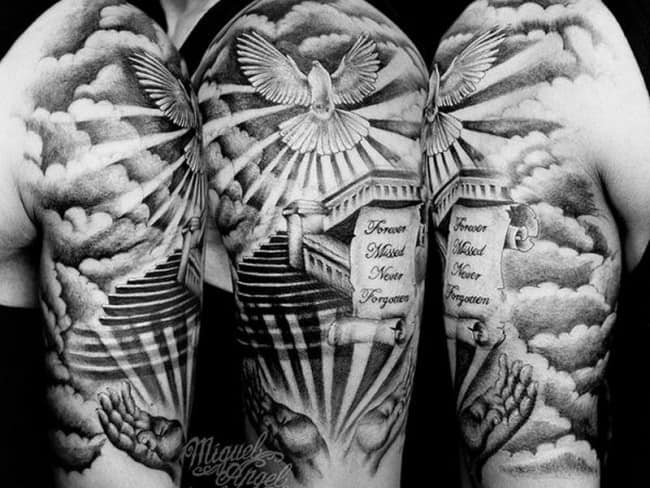 Celebrities Views
Have you seen several celebrities who are proudly wearing dove art? Well, you surely have. Meaning to say, this art is not only attracting those common people, but also those famous personalities in the world. Here are some of the names of these celebrities:
Worth Considering Designs for Dove Art
There are a number of designs that you can choose from when it comes to dove tattoos. You just have to find the one that really fits you. You might find all of the available designs extremely perfect for you since they are all gorgeous. If this is case, then why not base it with your personality when searching for the best design? In relation to this, here are some of the worth considering designs:
Cherry Blossom and Dove Design – Obviously, this design involves a cherry blossom flower image and a dove. Though it will already look great with one dove image, it will definitely look even more gorgeous and meaningful when you use two images of doves. This design is perfect when engraved in smaller sizes because it fits on wrists. Many people have this design engraved on their wrist area.
Tribal Dove Design – Another worth considering design for a dove art tattoo is the tribal design. At first glance, you might not guess what the tattoo looks like because of the tribal lines and curves that this design involves. It seems that the image of a dove here is abstract, so it may be hard for you to determine the image at first. You might even think that the dove image of this design is a butterfly. Of course, it is all up to you if you will add some more sub designs or be it a dove image alone.
Heart and Dove Design – Dove is a bird that is widely used in wedding ceremonies in the world. This is the main reason why it is considered to be a great symbol of love. As such, it is common to see a lot of people who have heart and dove. Just make sure that these two tattoo subjects will create a story when drawn on your body. The key is finding the best professional tattoo artist who is artistic enough in engraving such design on your body.
A Flower and Dove Design – It cannot be denied that doves are perfect when paired with flowers. This is a design that will surely make you more beautiful in the eyes of other people. Such design is very common among women tattoo lovers in the world. You can actually make use of any flowers such as rose, sunflower, lily and the like.
Dove and Olive Leaf Design – For sure, you have already seen a dove image that is having an olive leaf on its beak. This is a very common image that you can see anywhere, not only on body tattoos. It can be seen on books and in the world wide web. It is simply because this design is widely used in symbolizing peace.
Final Words
It cannot be denied that a lot of people in the world are getting attracted to have dove tattoos. You cannot blame them since these tattoos are not only very gorgeous, but extremely meaningful as well. You can choose a lot of designs for these tattoos, and you can engrave those that perfectly fit you.